Dr Raj Wicks Senior Veterinarian BVSc BSc(Hons)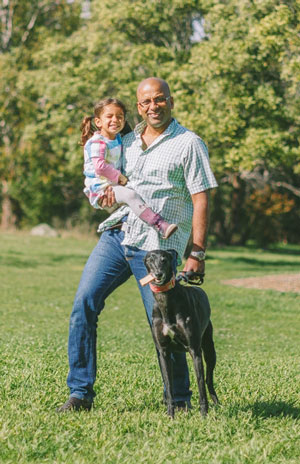 Dr Raj graduated with Honours in Science (Animal Parisitology) from the University of Queensland in 1995, and in Veterinary Science also from the University of Queensland in 2000.  Raj started his career on the more rural outskirts of the Gold Coast, treating all types of small and large animals at Anvet Beenleigh. He moved back to his home town, Melbourne, in 2002, working for several years at the Eltham and Montmorency Animal Hospitals, before joining the Animal Hospitals of Australia group in 2006 to take on a partner role in the very busy small animal practice – Reservoir Veterinary Clinic (outer north-east Melbourne).
In 2013, tired of the constant disappointment of his beloved AFL team the Richmond Tigers, Raj decided to continue his Australian trek southwards and move his wife, two young daughters (and now an adopted greyhound, Rosie) to Hobart.  Raj has worked for the last year as a senior emergency consultant to the After Hours Veterinary Emergency Clinic, at the same time seizing the opportunity to design and purpose build a veterinary clinic to provide care exclusively for his favourite patients, dogs.  And what better place, than the entrepreneurial Hobart, to be the first location in Australia to do it!
In his spare time, Raj is a keen cyclist, cricket and AFL fanatic, and a dab hand in the kitchen (catering for some very fussy toddler appetites).  And since moving to Tasmania, Raj can add a healthy obsession with sampling local ales/pinot noirs and growing his own fruit and vegetables to the bucket list.