Rosie joined our family in February 2014.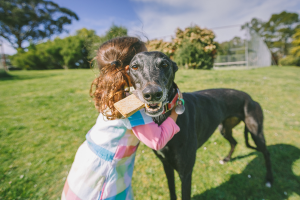 Rosie was originally adopted after a short and unsuccessful racing career (2 starts, but not very interested in racing). She moved from the mainland to Dunalley and lived with 2 elderly dogs, another Greyhound and a Kelpie.
Rosie's playful character got a bit too much for her older siblings and with much regret her owners were forced to put Rosie up for adoption again at the beginning of 2014.
She then became the much beloved fur-baby of the Wicks Family, and her hi-jinks and aptitude for 'counter-surfing' (Rosie is a natural for surfing treats on the kitchen bench) made her the perfect foil for the trouble her two human sisters got up to!
Rosie could often be found snoozing on her bed at the Taroona hospital, ready to offer moral support to our patients or say 'Hi' to our visiting clients. She adored any form of attention and was quick to remind the staff when she had not had her daily quota of snuggles! She is the perfect clinic mascot!
Sadly, beautiful nurse Rosie passed away at the end of 2020 after a long, wonderful life with the Wicks family.