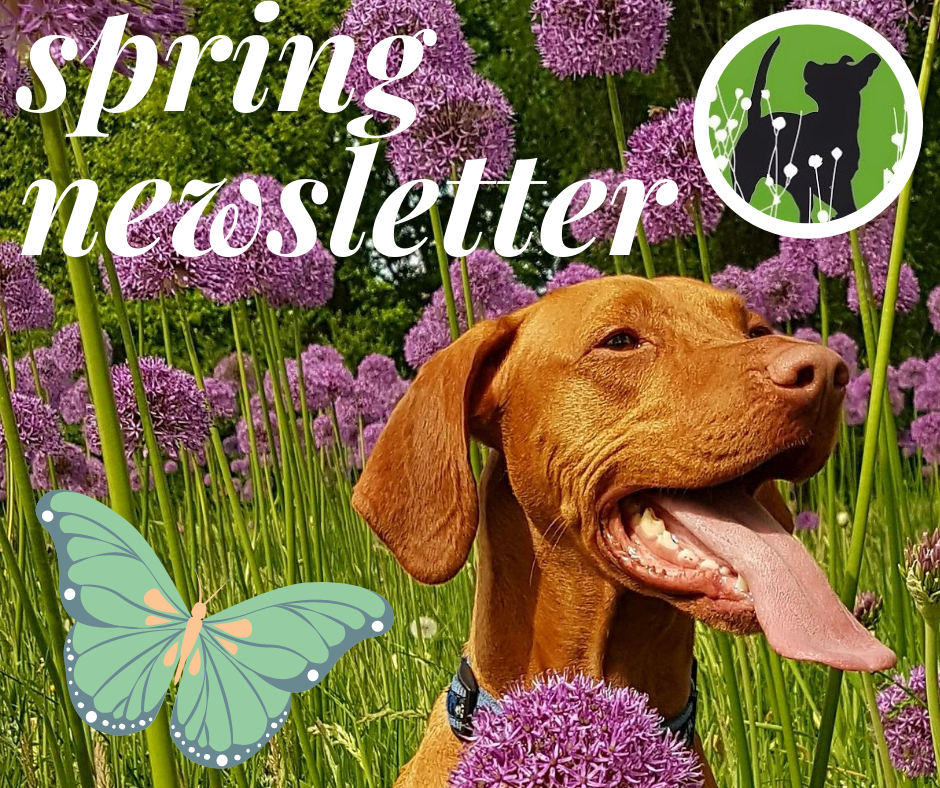 Coronavirus COVID-19 Restrictions
Head to our website https://www.thedogclinic.com.au/easing-covid-19-restricitions/ to read up on The Dog Clinic's in-clinic Coronavirus restrictions. Please note that as a team, The Dog Clinic has decided to keep our COVID-19 Safety Plan in place for the remainder of 2020. This is to ensure we will remain open to provide the care that is best for your pet in the event of a second wave, & to ensure we can continue to provide for our families.
Repeat Medication & Food Ordering
Orders are to be requested by 9:30am on MON & THURS for delivery within 48 hours. All orders must be pre-paid over the phone via EFTPOS at the time of ordering. Please make sure to contact us at least a week before you are due to run out, so we can source from our suppliers as best we can. Thank you! *Conditions apply
We can process your insurance claims for you
All you need to do is sign a pre-filled insurance claim form at the end of your appointment, and leave the rest to us! You should get your rebate back within a fortnight from your insurance provider. Could it be any easier?
OBAY Discount online shopping
www.obay.com.au
Use our unique code 7OM7XHAO to receive bargain pricing on over the counter products!
Spring into action – it's tick & flea season!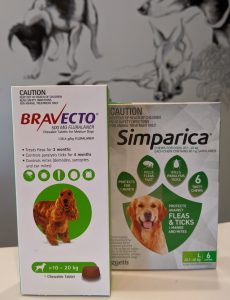 Spring & summer are tick and fleas most active seasons – to read about why we recommend using preventative medications, tick paralysis & symptoms of ticks/fleas, head to https://www.thedogclinic.com.au/health-checks/flea-and-tick-control/
Keep your dog up to date with their preventative medications, available over the counter at Sandy Bay & Taroona year round. The Dog Clinic team has extensive knowledge of the leading brands in tick and flea prevention while stocking two of the most effective products, Simparica & Bravecto – we can help you work out which will be most beneficial for you and your dog. With competitive pricing & discounts when purchasing in bulk*, The Dog Clinic also sends SMS reminders when your dog is due for their parasite prevention, or we have the option to add the Bravecto Program to your annual Worming Program!
*Conditions apply
Add the Bravecto Program to your yearly parasite prevention routine! Available now
The Dog Clinic is excited to announce that we are offering a Tick and Flea Program to coincide with the yearly Worming Program. Alongside your dog's worming tablets, we are now able to post out via mail a 3 monthly Bravecto chew to protect your pup against ticks, fleas and mites. Save yourself a few trips to the clinic this year and sign up at your dog's next vaccination and health check appointment!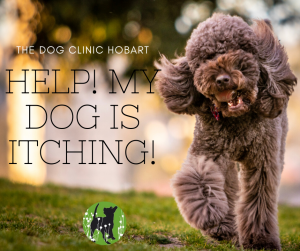 Allergies Abound!
Springtime often brings the symptoms of allergies, skin & ear conditions out in full force. Itching can be caused by a range of common conditions, diagnosis can sometimes be complicated, & often requires long term care & management.
Signs your dog needs a spring-time check up:
Itching, chewing at skin or paws
Dull, dry or flaky coat
Recurrent anal gland issues
Recurrent ear issues
Smelly ears or coat
Prone to stomach upset
Greasy coat
Hair loss
Seasonal itching (i.e Spring/Summer)
How do we stop the itching?!
Book in a skin consultation with your veterinarian! After getting a full history, we will perform skin testing and microscopy, rule in or out external parasites, treat any underlying infections, identify predisposing factors such as allergies, or for those extra complicated cases, refer for consultation with a veterinary dermatologist!
How do we treat it?
This is dependent on the underlying causes identified, but may include dietary changes, environmental changes, regular parasite prevention, or medication. For dogs with on-going conditions, we have plenty of ways to long-term medically manage allergies, and skin & ear conditions with regular revision and support from your vet.
Anal glands – boot the scoot!
The anal glands are a small pair of sacs located within a dog's anus. They produce a watery secretion that is squeezed out onto a dogs' faeces every time it defaecates and are an ancestral remnant of scent marking in wild dogs. Unfortunately, in domestic dogs, anal glands frequently become diseased due to impaction, infection and abscess formation, which is a common complaint in many canines, and can be both irritating to the dog and frustrating (not to mention smelly!) for owners. Clinical signs of anal gland irritation include "scooting" and licking or chewing at the tail base. These signs rarely indicate an intestinal worm infestation in canines, anal gland disease is far more likely the culprit!
If an anal gland becomes infected, a painful abscess can form that occasionally ruptures to the outside skin forming a draining sinus. Treatment options include manual expression of anal gland contents by your vet, however if infection is present often they will need to be flushed with saline and an oral course of antibiotics prescribed.
Prevention of anal gland issues is paramount – see your vet to discuss your options, or you can trial commercially available products such as Glandex. Glandex peanut butter flavoured chews are designed to help naturally express the anal glands and keep them healthy each time your pooch defecates. The main ingredient is pumpkin seed powder; helping to increase the bulk and firmness of the stools when fed daily. They contain natural anti-inflammatories, omega-fatty acids, probiotics and enzymes to help support a healthy gastrointestinal tract.
Tubs of 30 chews for $35.00
Tubs of 60 chews for $65.00
Available to pre-order from Sandy Bay and Taroona clinics.
Dental Care
One of the most common issues we see in doggy health-care is dentistry. Just like humans, dogs are vulnerable to problems with their teeth and gums. Up to 80% of dogs will suffer from some form of dental disease by the age of 3! Head to our website to read more in-depth about dental care. https://www.thedogclinic.com.au/health-checks/dentistry/ and here https://www.thedogclinic.com.au/desexing/dental/
The Dog Clinic offers FREE dental checks all year round, where we will provide a grading and estimate for your dog's anaesthetic and dental clean. At this quick ten minute appointment, we can give you tips and advice on keeping your dog's teeth squeaky clean, and have a chat to you about some over the counter products we stock to keep their breath smelling fresh!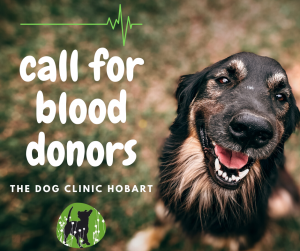 Blood Donation
At The Dog Clinic we see a wide range of medical and surgical cases. Occasionally one of our patients will require a blood transfusion.
We are hoping to find some lovely dogs that would be willing to be on a blood donor list and donate their blood, in the event that it is needed for one of our patients. We are not planning on routinely collecting blood to have on hand, only collecting if needed for a particular case to ensure there is no wastage.

To be a suitable blood donor dog, they must be:
Between 2 and 7 years of age
Desexed
Not have any current medical conditions
Not on medications
Up to date with vaccination or antibody titre
Of good calm temperament
At least 25kg in body weight
Have not donated blood in the last 6 months
If you think your furry companion may like to be a potential blood donor, please get in touch with us via email info@thedogclinic.com.au
Woof!
The Dog Clinic Sandy Bay & Taroona – the fun stuff!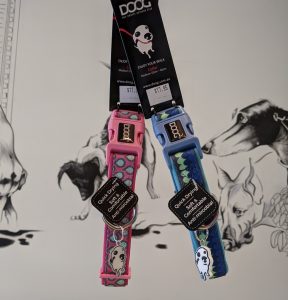 Did you know that we stock ample Kong, Outward Hound and Zippy Paws toys? Always rotating stock, with tough toys made from firehose material with no stuffing, durable rubber, soft ones in pastel hues, fluffy and bright, treat dispensing toys, mentally invigorating toys, LickiMats & Slow Feeder bowls in a range of stimulating patterns and colours just to name a few.
We also sell bulk pigs ear bags for bargain prices, veggie ears for pooches who need a little less fat in their diet, and lots of Canine Candy meat-treat options for dogs to choose from to spend lots of time chewing, crunching and tearing to keep those teeth wonderfully clean.
We have the most stylish DOOG collars, leads and Y-fronted harnesses for extra support at both our sites in a range of designs and sizes. Some have reflective strips for night-time walking for added safety, others speak for themselves in their bold colours that look fantastic against all furs.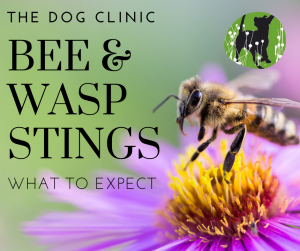 Insect Stings
Over the spring and summer months, bee/wasp stings (and insect bites overall) are more common.

Why do dogs get stung or bitten?
Walking/playing in grassed areas and chasing or eating insects

What will happen to my dog if they are stung?
The majority of dogs will not have any adverse reaction to a sting, it may be a little tender for short period, but will resolve spontaneously. Some dogs may a have a mild allergic reaction and develop swelling in the area which may be painful or itchy. In rare cases, a dog may have an anaphylactic reaction to a sting. In this instance they may develop hives/swellings, start vomiting, and maybe even collapse!

What to do in the event of a sting:
In most cases no treatment is required.
If the area is mildly painful, sometimes application of a cold pack can provide some relief.
If your dog develops a swelling, rash or is particularly painful/distressed, they may need to see the vet for assessment and possible medications.
If your dog has an anaphylactic reaction (as described above), you need to get to the vet as soon as possible for assessment and appropriate treatment. This is the closest vet to your location.

We do not advise giving human antihistamine products unless advised by your vet as this could have negative consequences or cause problems with other medications your pet may be receiving.

In the event of an insect bite that needs medical attention after hours, please call
AHVEC 1300 302 912
37 Derwent Park Road, MOONAH
Follow The Dog Clinic on social media!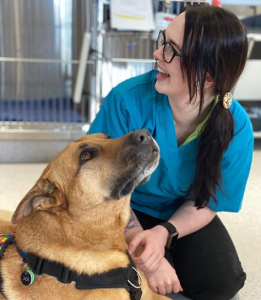 Keep up to date with the Taroona hospital and Sandy Bay consulting suite by following our Facebook page @TheDogClinicHobart – we regularly update the page with any day to day changes or goings-on in the clinics regarding appointments or medication/food ordering, availabilities for Puppy School classes, promotions we are currently running, toy and treat order arrivals, with the occasional meme and informational post too.

https://www.facebook.com/TheDogClinicHobart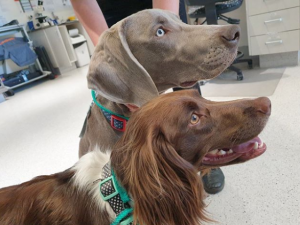 Our Instagram account @thedogclinictas is dedicated to our gorgeous patient photos and stories. Here you'll get to see some toothy dog grins, cute puppies and staff antics, alongside new and exciting products your pooches will love!

https://www.instagram.com/thedogclinictas/