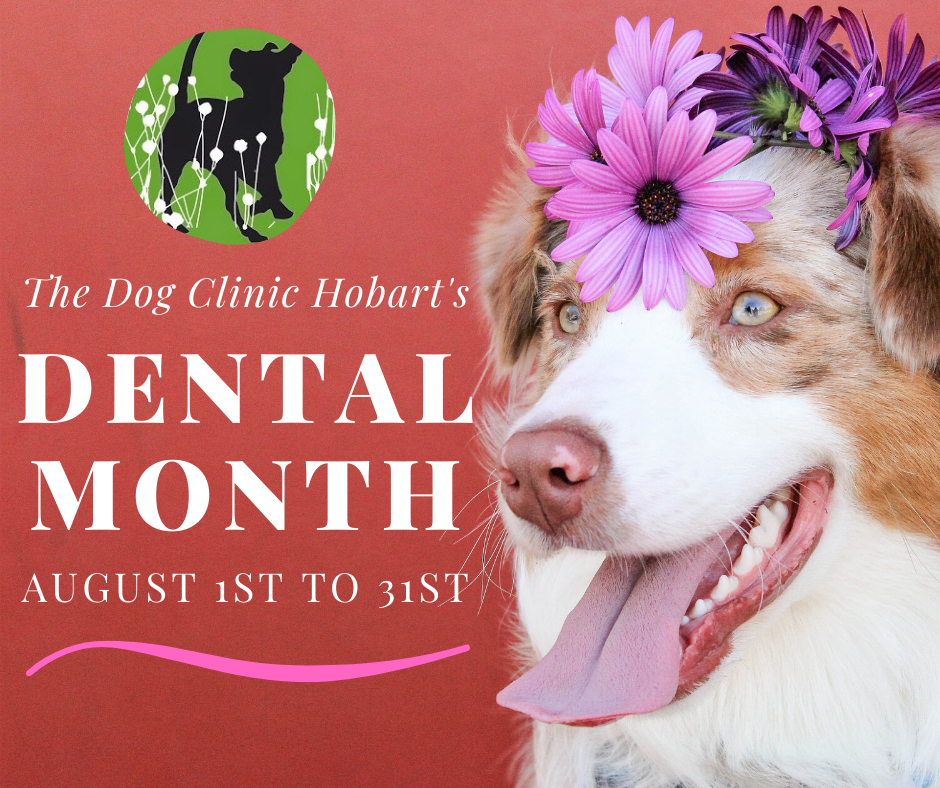 With The Dog Clinic's Dental Month finally here, we'd love to share with you the few fun things we will have on offer for AUGUST!

FREE dental checks EVERY DAY for the month of August!
Please call us on 03 6227 9586 to book your 10 minute appointment with a vet for a FREE dental check, & estimate for a scale & clean! Your pooch will also be sent home with your choice of a FREE pigs or veggie ear!

PRE-ORDER DENTAL PRODUCTS
Due to increased demand for dental items and our in-clinic COVID-19 Safety Plan, pre-ordering & payment of any of the below products is required prior to collection. This also ensures we have the stock ready for you when you would like to collect! <3

Purchase two or more of Oravet, Greenies, Whimzees, Delicate Care Dental Treats, Hexarinse or Dentipet Toothpaste and receive a FREE Delicate Care Dental sample while stocks last!

ORAVET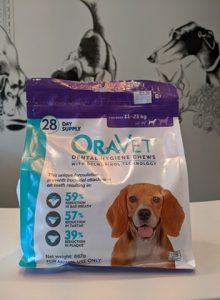 Oravet is a daily dental chew which helps to clean teeth by mechanical chewing; removing plaque and tartar from Dental Grade 1 teeth*, with a medicated component that shields teeth against bacteria.
Oravet trial packs of 3 chews!
Oravet Small 4.5 – 11kg $10ea
Oravet Medium 11 – 23kg $12ea
Oravet Large 23kg+ $15ea
Oravet Bulk Packs – Buy 2 or More & Get 10% Off!*
Oravet Small 4.5 – 11kg 28 day supply $40ea
Oravet Medium 11 – 23kg 28 day supply $53ea
Oravet Large 23+kg 14 day supply $39ea


GREENIES DENTAL CHEWS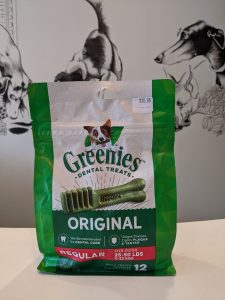 Greenies are a daily dental chew available in Chicken, Blueberry, Grain Free and Fresh Mint flavour for $30.95ea in all sizes, or Buy 2 or More & Get 10% Off!*
Greenies work by using their tough, chewy texture to encourage munching for longer periods to clean the teeth, effectively scraping tartar away.


WHIMZEES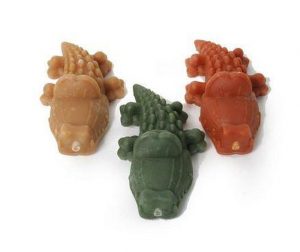 A daily chew available in toothbrush, alligator and hedgehog shape, proven to reduce 2x the amount of plaque while lasting 3x longer than competing chews! All natural, easily digestible vegetarian chews approved by the Veterinary Oral Health Council! $26.99ea or Buy 2 or More & Get 10% Off!*


DELICATE CARE HYPOALLERGENIC TREATS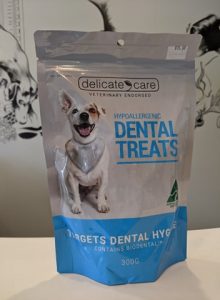 Kangaroo protein and Australian sorghum based, Delicate Care's hickory flavoured daily treats are suitable for pooches with sensitive skin or stomachs. $15ea or Buy 1 Get 1 Free while stocks last!*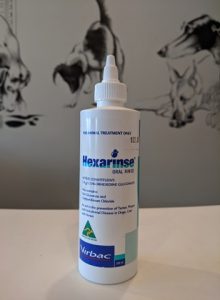 HEXARINSE

A daily antimicrobial tooth-rinse to aide in the prevention of dental disease. Simply run liquid over your dog's teeth after meals. $33.50ea for 250ml or $60.30 when you purchase two!

DENTIPET TOOTH PASTE & FINGER TOOTHBRUSHES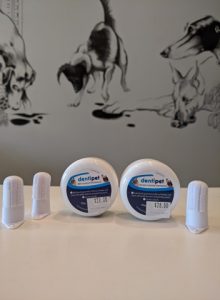 Dentipet chicken or beef flavoured pet toothpaste to be used daily in conjunction with a finger toothbrush! 70G pots of toothpaste for $28ea or $50.40 when you purchase two! Finger toothbrushes available for $3.50ea



THE DOG CLINIC'S BULK PIGS EARS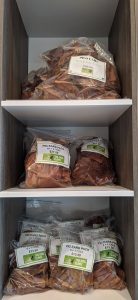 RSPCA approved Australian pigs ears
5 + 1 FREE pack $13.50ea
10 + 3 FREE pack $27.50ea
Bulk 50 pack $99ea

VEGGIE EARS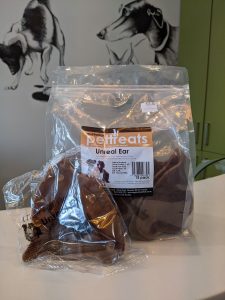 Tasty vegan "pigs ears" made out of rice flour and lower in fat than the alternative!
Singles $3.75ea
15pack $50ea or $90 when you purchase two!




CANINE CANDY
The Dog Clinic Sandy Bay & Taroona stock a large range of Canine Candy pet meat-treats, perfect for promoting longer periods of chewing, crunching & tearing to help keep your dog's teeth bright and shiny after their dental clean!
Available treats are:
Beef aorta & bully sticks $3ea
Chicken feet $1ea
Kangaroo-filled cow hooves $4.50 / $8 for 2
Pork half-trotters $4ea / $7 for 2
Beef Chew Tubes (trachea) $6ea / $10 for 2
Pork rackle rolls $7ea / $12 for 2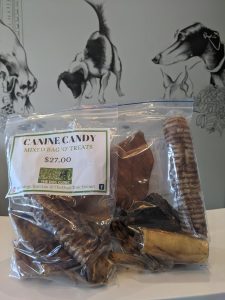 Canine Candy Mixed Bag 'o' Treats $27.00ea includes:
1 Pigs ear
1 Kangaroo-filled cow hoof
1 Pork half-trotter
1 Pork crackle roll
1 Beef Chew Tube
2 Chicken feet



Please note: For dental chews and treats to be effective, your dog must spend a decent time chewing them (rather than two bites and a swallow!) If your dog is not spending a few minutes chomping on their dental treats, you may need to try a different size or product!

HILLS T/D $20 OFF ONLY AT THE DOG CLINIC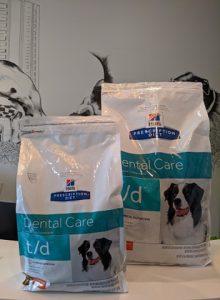 A scientifically formulated great tasting pet food, with a unique kibble shape and texture to reduce build up of plaque, stain and tartar. Complete & balanced diet for adult and senior dogs. Taste guaranteed!*

2.25kg Regular & Small Bites $32ea (RRP $52)
5.5kg Regular $76ea (RRP $96)
11.3kg Regular $158ea (RRP $178)

DELICATE CARE DENTAL DIET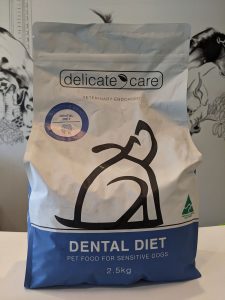 Hypoallergenic dental kibble for all dogs, but especially those with sensitive skin or stomachs! Australian made and owned by veterinarians from Murdoch University, with a kibble design to help clean teeth while chewing! Comes with a Frequent Feeder Rewards Card of Buy 10 Get 1 Free!* Taste guaranteed!*

2.5kg for $46ea


ANNUAL DENTAL PROGRAM
This year, due to COVID-19 and our increased surgical and hospitalisation cases, The Dog Clinic team has decided to forgoe our usual dental surgery discounts for August. But don't worry – we are still offering our Annual Dental Program, where your dog will get a discounted dental scale & polish every year!*

Head to our website to learn more: https://www.thedogclinic.com.au/desexing/dental/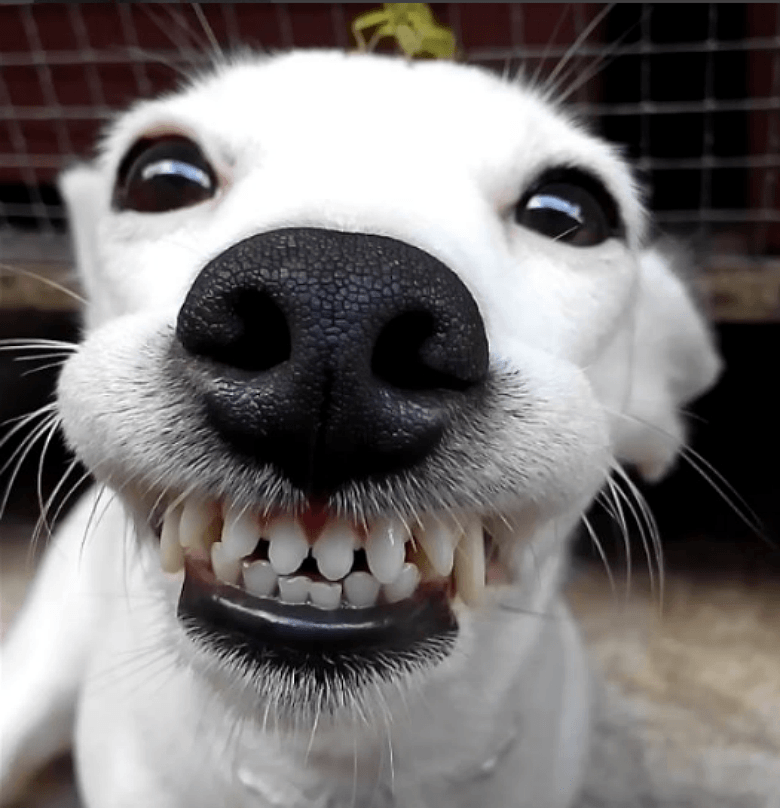 Happy Dental Month, Dog Clinic family!
Prices correct as of 28/07/2020 – Subject to changes
**Conditions apply**