Veterinary Nurses
Bel Receptionist
Hey there, I'm Bel! I joined The Dog Clinic team in 2017, and prior to that I worked at AHVEC as an Emergency Veterinary Nurse/Receptionist for five years. All together I have been in the veterinary industry for fifteen years and counting now!
My main roles at The Dog Clinic are overseeing stock/medication orders, client communication, management and I also take care of all the Pet Insurance needs for the clinic.
While I love all breeds of dog, I do admit that my favourite breed is the Pug. I have a soft spot for the snorting breeds. Next time you're in the clinic, come and say hi as I love to chat!
Jennifer Veterinary Nurse 
Hi, my name is Jennifer and I have been with The Dog Clinic since early 2019 as a Veterinary Nurse. I have been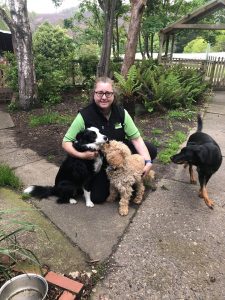 a Veterinary Nurse for over four years. I have completed my certificate IV in vet nursing and am currently enrolled in my Diploma of veterinary nursing. My passion is to work with all animals, so at the moment I am enjoying working with all breeds of dogs. I have been responsible for implementing our Senior Program for our elder patients, which enables me to work closely with our clients and their beautiful dogs. I have a varied role at The Dog Clinic from reception to surgical nursing which allows me to build a rapport with both clients and patients. My job is different each and every day which I find refreshing and exciting.
I have three dogs of my own: a 12 year old Spoodle called Brian, an 9 year old Border Collie called Zac and a 3 year old Kelpie called Charlie, they definitely keep me on my toes! Also not forgetting there is our 13 year old cat called Chops.
I live with my family out at Glen Huon where we have an 82 acre farm and run a blueberry and cherry orchard, so there is very little spare time but when I do have time I enjoy spending it with my family away from the farm. 
Karyn Receptionist

 Hi, my name is Karyn and I have been in the veterinary industry for 14 years. I started my career in 2006 at Channel Highway Animal Hospital. During that time I was lucky enough to work alongside specialist surgeon Dr Gail Anderson, fulfilling my love for more complex surgical procedures.
In my younger days I was a keen equestrian and was lucky enough to be invited to live in Melbourne to fulfil my love of showjumping. I competed both in Victoria and NSW for 2 wonderful years until I became homesick…and broke (you can never be rich with horses!!).
I joined the wonderful team at The Dog Clinic in July 2019. I am excited to be starting this new adventure and look forward to meeting all your beautiful companions. I am also a proud mum to 2 beautiful daughters.
Megan Veterinary Nurse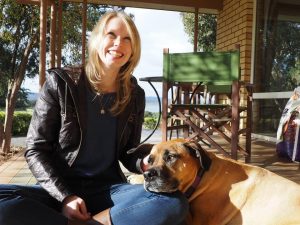 Megan joined The Dog Clinic team in 2021, after working at a critical care clinic in Melbourne.  Nurse Meg also used to work with Karyn at Hobart and Channel Highway Animal Hospitals for many years as a senior nurse.
She is experienced in emergency and orthopaedic surgeries with a love of complex surgical cases. Meg is in charge of our inter-clinic referral surgeries with our friends at Bright Futures, and works closely with Dr Chris Allfree and Nurse Stacey.
Cody Receptionist
Hello! My name is Cody, I have been part of the Dog Clinic team since June 2022. Although I originally joined the Dog Clinic as a Kennel Hand, I quickly began to grow into the Reception team. Growing up rurally, I spent most of my time with my two family dogs Cobber the border collie and Brax the Labrador, Sadly, we lost our Cobber Dog  in January 2022 after 20 whole years of living an amazing life – that's about the equivalent of living to 115 in human years!
You'll most likely find me working on next-day surgical/consult forms, greeting you and your loves as you come into the clinic, assisting with the nursing team or even doing courtesy calls to make sure your loves ones are as happy and healthy as can be. 
Tash Kennel-hand – Junior Nurse
Prior to working at The Dog Clinic, Tash completed her Certificate II in Animal Studies, and is pursuing further study in Certificate IV Veterinary Nursing this year. Tash has a miniature dachshund called Nala who is 4 years old – they like spending time at the beach and going on walks. Tash is super excited to become a part of the Dog Clinic Nursing Team.
Missy Receptionist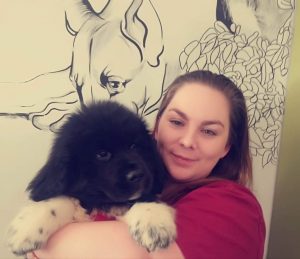 Missy joined The Dog Clinic team in 2020 by taking on the role as one of our reception nurses after formally completing the Certificate II in Animal Studies whilst working at Huon Valley Veterinary Hospital.
Missy has two spoilt senior dogs she adopted from The Dogs' Home: Avie, a Mastiff cross, and Laurel, a Staffy X.
Missy runs Avilly Paws – She supplies our Bravery Bandanas for our hospital patients to go home with after their procedures.
Claire Veterinary Nurse