Orthopaedic Surgery
Orthopaedic surgery encompasses any surgery that is related to bones or joints.
Our team of veterinarians have a high level of expertise and the Dog Clinic's fully equipped surgical suite allows us to perform most orthopaedic surgical procedures that your dog may require.
These may include:
Cruciate ligament repair

Fracture (broken bone) repair

Amputations for severe injuries or bone cancer cases
Sometimes for more complicated cases we call upon Dr Chris Allfree at Bright Futures Surgery. Dr Chris will, by arrangement, consult and perform surgery out of The Dog Clinic. Dr Chris has a high level of expertise in orthopaedic surgery and regularly performs knee and spinal surgeries.
Our veterinarians will assess each case individually and provide the best advice for you and your dog.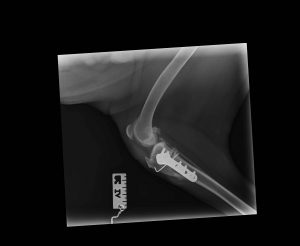 We also consult with Dr Evelyn Woods from Mobile Rehab Vet for the best and most up to date rehabilitation advise post-surgery in order to achieve the best possible surgical outcomes.