Winter Newsletter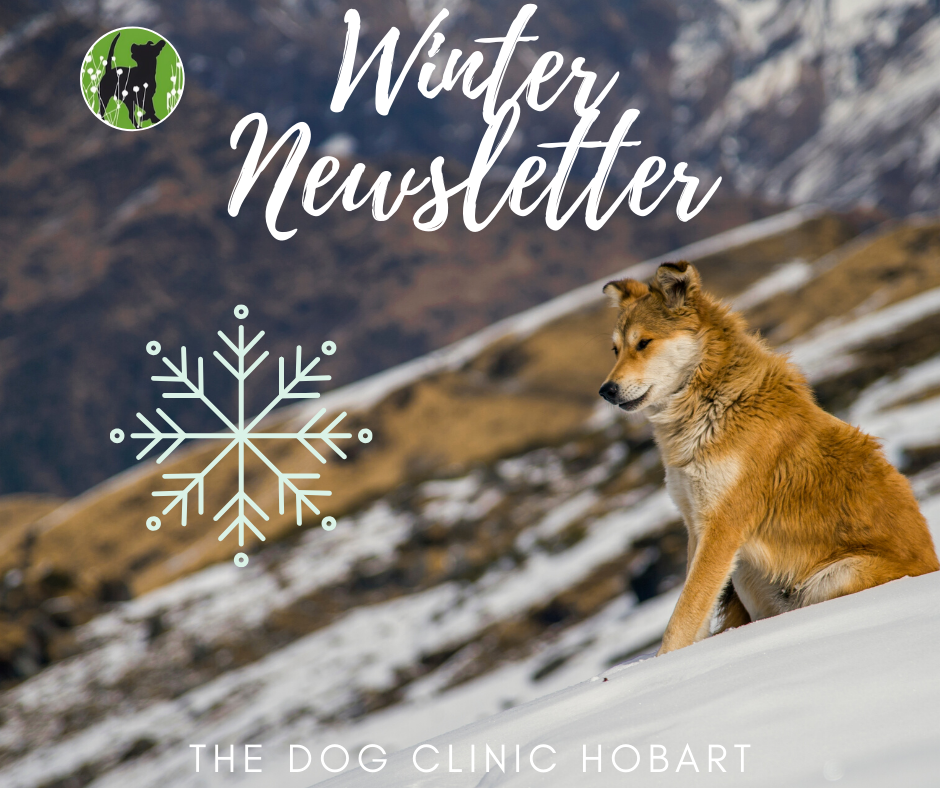 Add the Bravecto Program to your yearly parasite prevention routine! Available now!
The Dog Clinic is excited to announce that we are offering a Tick and Flea Program to coincide with the yearly Worming Program. Alongside your dog's worming tablets, we are now able to post out a 3 monthly Bravecto chew to protect your pup against ticks, fleas and mites. Save yourself a trip to the clinic this year and sign up at your dog's next vaccination and health check appointment!


We can process your insurance claims for you!
All you need to do is sign a pre-filled insurance claim form at the end of your appointment, and leave the rest to us! You should get your rebate back within a fortnight from your insurance provider. Could it be any easier?


Weight Woofers Program
Do you have a pudgy pooch? Want to help your dog shed that extra bit of weight to improve their quality of life? Look no further! Weight Woofers is a weight loss & management program at The Dog Clinic to help your dog reach and then maintain their paw-fect weight.

During your pet's weight loss journey, we will concentrate on diet, exercise & environmental enrichment, & develop a plan to help you maintain your pet's ideal weight.

Weight Woofers includes:
– Unlimited nurse consults & personal 1 on 1 support
– A free bag of Hills Metabolic treats
– 3 x $20 Off vouchers for Hills Metabolic or Metabolic/Mobility dry food (10.8kg)
– 3 x $20 Off vouchers for Hills Metabolic or Metabolic/Mobility canned food cartons (12 300+g cans)

Hills Prescription Diet Metabolic & Metabolic/Mobility are specially formulated by vets to change the way your dogs genes are expressed from their DNA, working to activate your dog's natural ability to burn fat & regulate their appetite. This results in a healthier metabolism & controlled glucose levels.

Effects of Being Overweight
– Damage to joints & ligaments, osteoarthritis
– Diabetes mellitus
– Heart disease & increased blood pressure
– Difficulty breathing
– Decreased stamina
– Decreased liver function
– Increased surgical & anaesthetic risk
– Digestive disorders
– Skin & coat problems
– Decreased immune function
– Decreased quality & length of life

We look forward to discovering a healthier & more energetic dog on their weight loss journey.
Interested in joining Weight Woofers?
Call 6227 9586 to chat to Nurse Karyn & Emma!
Senior Program
The Dog Clinic's Senior Program is dedicated to encouraging regular check-ups for our older furry friends & educating owners about the early intervention in diseases & condition control in senior dogs.

A senior dog is classified as over the age of 7 – we recommend 6 monthly check-ups for dogs this age and over; equating roughly to a 50 year old human having a doctors visit every 3 years!
We believe it is important to have regular check-ups & annual screening tests to catch early indicators of disease.

To reward our client's dedication to improving their pet's quality of life by joining the Senior Program, we are offering the following services:
– A discounted Level 3 Consult *Conditions apply*
– A FREE hospital stay if your dog requires the following recommended tests:
1. Annual in-house blood testing for bio-chemistry & haematology panels to detect early changes such as anaemia, kidney & liver function
2. 6-monthly urine tests to detect early stages of kidney disease or urinary tract infection
3. Fine-needle aspirates of any new lumps & bumps to check for cancer cells
– And discounts or loyalty cards on prescribed & recommended food

Following your Senior Consultation & diagnostic testing, if there are multiple involved issues, your vet will email you a detailed report & create a plan tailor-made to your dog!

Interested in more info on the Senior Program?
Call 6227 9586 to speak to Nurse Jen!

Paw Senior Vitality is an over-the-counter (OTC) daily chicken flavoured powder full of vitamins & minerals to help maintain eye, brain & immune health in senior dogs. Available at The Dog Clinic Sandy Bay – double check with your vet before starting if they are on medications!
Osteoarthritis
Osteoarthritis is a progressive deterioration within joints, involving degeneration of cartilage that lines the ends of bones, remodelling the bone joints, and changes in the joint capsule; secreting fluid. These changes are seen in most older patients but can also be diagnosed in young animals with growth disorders (eg hip dysplasia, patella luxation), overweight, or resulting from trauma. We find in the colder months coming into winter, symptoms of osteoarthritis can often progress & worsen!

Signs of osteoarthritis to watch out for:
– Limb lameness or stiffness
– Stiff movement
– Difficulty rising / going up & down stairs / getting in & out of car
– Exercise, laying down for long periods, & cold weather results in exacerbated symptoms
– The pain of arthritis is often constant, many dogs will not vocalise their pain, so attentiveness to subtle changes will help in determining a cause as the progression is gradual

If you suspect your pet might be developing osteoarthritis, book in a consultation with your veterinarian.

There are prescribed anti-inflammatory medications/pain relief, & over the counter (OTC) products for managing arthritis, but a diagnosis is crucial! For long term medications, The Dog Clinic may require 6 monthly blood/urine testing to monitor the effects on liver & kidney function.
Your veterinarian will discuss this when talking about medication options (not all are listed below!)

Synovan is frequently used as a course of 4 injections under the skin given at 1 week intervals. They help treat the pain of osteoarthritis & slow degeneration of joints by protecting the cartilage & improve the quality & amount of joint fluid, providing lubrication & nutrition to tissues of the joint.

Antinol Rapid is an OTC veterinary only fish oil capsule made from green-lipped mussel & krill extracts, proven to reduce pain & swelling in cases of arthritis, & provides vital nutrients to the joint.

Paw Osteocare is an OTC kangaroo-based daily chew with lots of vitamins & minerals to support joint health . Good for fussy pups!

Hills Prescription Diet j/d is a complete & balanced dry food diet designed by veterinarians to maintain a healthy weight, mobility, joint support & immune health! 10% off!*

Delicate Care Mobility is an Australian made complete & balanced dry food designed by veterinarians to support joint health & improve movement. Buy 10 Get 1 Free!*

Let us know if you intend to use any of the above products or joint/mobility foods – some shouldn't be used in conjunction with the other, eg Hills j/d & Metabolic + Mobility, or Delicate Care Mobility as they already have fish oils!
*Conditions apply*

But what about our young dogs without health issues?
The Dog Clinic stocks high quality food for all stages of life & can point you in the direction of what would be most suitable for your best-friend. Whether you have a puppy, a middle-aged dog, one with skin or sensitive tummy issues, we have something for you! Just chat to one of our nurses.

If you are feeding a healthy, well balanced high quality food, there is no need to supplement. However, some owners may wish to make sure their furry friends are getting all of their required vitamins, nutrients & antioxidants, so we recommend Paw Wellness + Vitality daily kangaroo-based chews to promote general good health & wellbeing.

Keeping dogs active during the colder months with daily walks & exercise will help your dog to maintain their healthy weight, improve organ function, and is a great boredom buster!

If you need some extra help to keep your dogs mentally stimulated during the wet, windy & rainy days of winter, we have plenty of toys & treats available for purchase, & we can refer you on to some trainers in the Greater Hobart area to teach you some fantastic tips & tricks to work on with your pooch!