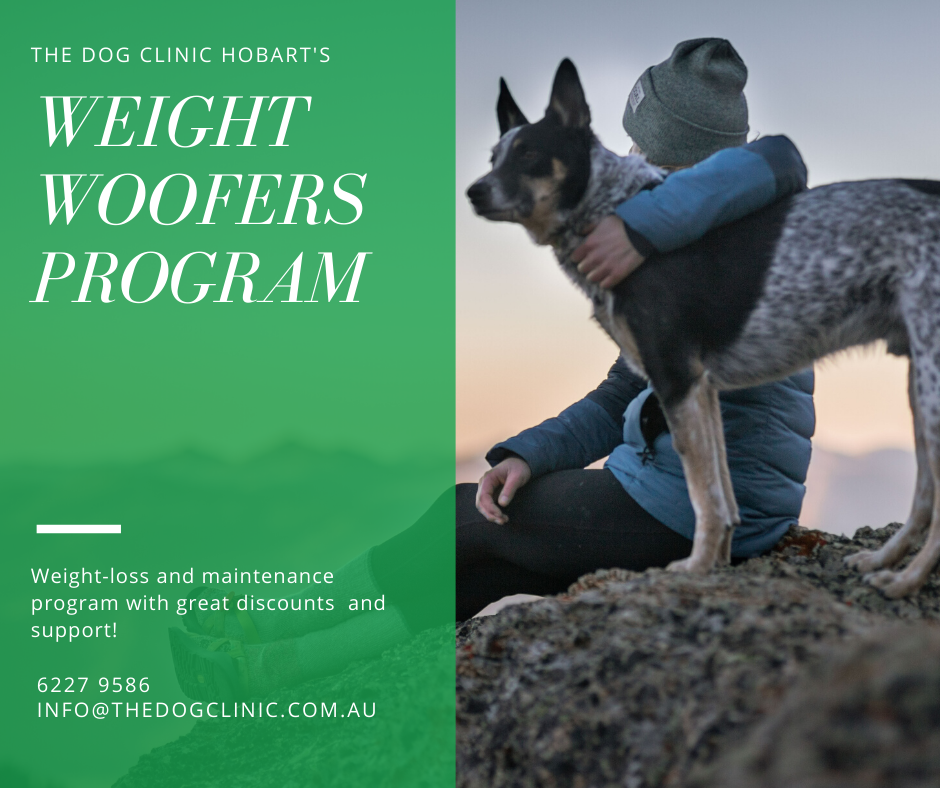 Do you have a pudgy pooch? Want to help your dog shed that extra bit of weight to improve their quality of life? Look no further! Weight Woofers is a weight loss & management program at The Dog Clinic to help your dog reach and then maintain their paw-fect weight.
During your pet's weight loss journey, we will concentrate on diet, exercise & environmental enrichment, & develop a plan to help you maintain your pet's ideal weight.
Weight Woofers includes:
– Unlimited nurse consults & personal 1 on 1 support
– A free bag of Hills Metabolic treats
– 3 x $20 Off vouchers for Hills Metabolic or Metabolic/Mobility dry food (10.8kg)
– 3 x $20 Off vouchers for Hills Metabolic or Metabolic/Mobility canned food cartons (12 300+g cans)
Hills Prescription Diet Metabolic & Metabolic/Mobility are specially formulated by vets to change the way your dogs genes are expressed from their DNA, working to activate your dog's natural ability to burn fat & regulate their appetite. This results in a healthier metabolism & controlled glucose levels.
Effects of Being Overweight
– Damage to joints & ligaments, osteoarthritis
– Diabetes mellitus
– Heart disease & increased blood pressure
– Difficulty breathing
– Decreased stamina
– Decreased liver function
– Increased surgical & anaesthetic risk
– Digestive disorders
– Skin & coat problems
– Decreased immune function
– Decreased quality & length of life
We look forward to discovering a healthier & more energetic dog on their weight loss journey.
Interested in joining Weight Woofers?
Call 6227 9586 to chat to Nurse Karyn & Emma!