Dr. Shannon Spencer
Veterinary Surgeon, BVSc. (Hons 1)

Dr. Shannon joined The Dog Clinic team in 2016, having moved to Hobart following three years working in a busy small animal practice in Melbourne.
Originally hailing from sunny Brisbane, she graduated in Veterinary Science from the University of Queensland in 2004 with Honors and began her working life as a dairy cow vet in the colder climate of Warrnambool in Southern Victoria.
Shannon has managed to travel widely with her career, working in various veterinary clinics across Australia, New Zealand and the United Kingdom over the last twelve years. She has centered her practice solely in the area of small animals over the last seven years and has relished the opportunity to further focus her veterinary care on dogs at Australia's first canine-only veterinary clinic.
Shannon is joined in Hobart by her partner and two young children. In her spare time she enjoys cooking, gardening, camping and hiking and she tries to get away as much as possible to explore Tasmanias' beautiful outdoors.
In 2021 Dr Shannon adopted a gorgeous golden retriever named Rosie and a kitten named Juno.
Shannon is looking forward to meeting you and your canine family members at The Dog Clinic soon!
Dr. Hannah Robinson 
Veterinary Surgeon, BVSc.
Dr Hannah joined The Dog Clinic team in 2018.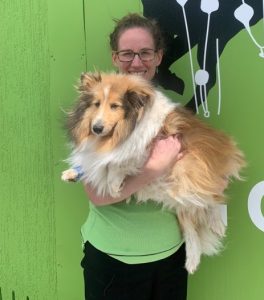 Dr Hannah studied Veterinary Science at Charles Sturt University in Wagga Wagga, her first job was in a mixed rural practice in NSW. She and her husband then moved to Hobart and worked for the following five years at the After Hours Veterinary Emergency Centre.
After having her first child she decided to come back to general practice and pursue her love of dogs. Dr Hannah is particularly passionate about soft tissue surgery and caring for ageing patients.
Hannah has a lovely black Labrador named Ella that she adopted from the local pound when she was at university. Ella has travelled all over the country with her and has loved the move to Tasmania as much as Dr. Hannah!
In her spare time Hannah likes to spend time with her family (and Ella of course), and loves getting out in the beautiful Tasmanian wilderness.
Dr Hannah looks forward to meeting you and your furry family members at The Dog Clinic.

Dr Grace Russell
Veterinary Consultant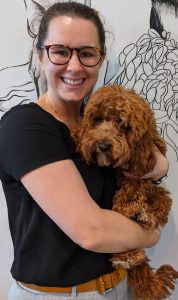 Dr Grace grew up in country Victoria and spent much of her childhood on her grandparents dairy farm.
She attended James Cook University in Townsville, graduating with a Bachelor of Veterinary Science in 2014.

She returned to country Victoria and worked as a mixed practice veterinarian for 2 years.
Following this, Dr Grace moved to Sydney and undertook small animal general practice work, followed by the completion of a small animal internal medicine internship at North Shore Veterinary Specialist Centre.
Dr Grace moved to Tasmania early 2020 and worked as an emergency veterinarian before starting at The Dog Clinic in early 2021.
Grace enjoys all aspects of veterinary medicine, but is particularly interested in internal medicine, oncology, and endocrine diseases. She is also currently undertaking an honours research degree through the University of Tasmania, as part of the team investigating devil tumour facial disease. 
Outside of work, Dr Grace enjoys hiking, swimming and gardening.
She is available for consultations at our Taroona clinic on Fridays, and at Sandy Bay every second Saturday.

Dr Mark Hynes
Veterinary Consultant
Dr Mark Hynes joined The Dog Clinic team in 2021 as a casual consulting veterinarian. He works every second weekend at the Sandy Bay consulting suite.
Dr Jackie Bice