Veterinary Nurses
Hayley Klop Head Veterinary Nurse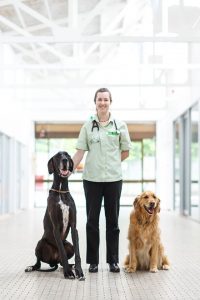 Hayley started her career at Tasmanian Animal Hospitals in 2009, where she joined the team as a Nursing Assistant and the proud mum of a precious Golden Retriever puppy named Indie. After gaining valuable experience in small animal practice she became a Veterinary Nurse in 2010. With her keen interest in emergency medicine it was a natural progression to join the fledgling After Hours Veterinary Emergency Centre (AHVEC) in late 2011. It was also around this time that Hayley's heart and couch were stolen by Calli the Great Dane – 'the big dog with the little brain'!
During her three years at AHVEC, Hayley was able to care for pets with complex surgical and medical needs. Although the buzz of the emergency room can be addictive, Hayley began to miss nursing her 'regular' patients and being able to create lasting relationships with pet parents. So, in 2014 she joined Dr. Raj Wicks' exciting venture to open The Dog Clinic – Veterinary Care Just For Dogs.
Hayley enjoys making her patients as calm and comfortable as possible while they are at the clinic and is delighted to work exclusively with canine companions. Outside of work Hayley is a mum to a non-furry child. She also enjoys making improvements to her little hobby farm, eating good Thai food and spending way too much money on collars and coats for her fur kids!
Nic Bolt Veterinary Nurse
Tania F Veterinary Nurse
Bel Sward Veterinary Nurse / Receptionist
Hello Everyone! I'm Bel, I joined The Dog Clinic team in 2017, and prior to that I worked at AHVEC as an Emergency Nurse Receptionist and Veterinary Nurse for five years. Altogether I have been in the veterinary industry for twelve years now! I have completed my Certificate II in Animal Studies and I would like to do more study, but for the moment I have two small girls that keep me very busy when I'm at home!
Since starting at The Dog Clinic I am already learning how to run Puppy School and am loving it, I hope to see your new puppies in a class! I also take care of all the Pet Insurance needs for the clinic.
While I love all breeds of dog, I do admit that my favourite breed is the Pug.
I can not wait to meet everyone and your beautiful dogs.
Janine Cornish Client Services / Veterinary Receptionist
Janine joined The Dog Clinic team in January 2018 after 15 years at the North Hobart Veterinary Hospital.
Living with 3 dogs, Finn the greyhound, Casey the Border Collie x Tasmanian Devil, and Anessa the Saluki, Janine understands how important the bond is between us humans and our furry companions and loves helping people learn more about how amazing their canine family members really are.
Janine is our Puppy School Coordinator and enjoys spending time helping clients set their puppies up to succeed at life.
With some boring qualifications such as Business Management & Human Resources in her background, Janine uses her years of experience in a veterinary environment to work behind the scenes running The Dog Clinic social media presence and tries her best to come up with exciting ideas to involve both clients and their pets.
In her spare time she runs Necessary Grooming, a grooming salon that was set up for anxious dogs to have somewhere understanding to be groomed, and is ruled totally by the multitude of animals in her life!
Amy Range Veterinary Receptionist
Amy joined The Dog Clinic team as a receptionist in late 2017, kick-starting her veterinary career and reigniting her passion for working with animals. With an aspiration of one day joining the nursing team, Amy has been enjoying learning all about The Dog Clinic. She has taken on the roles of coordinating the clinic's annual Worming Program, assisting with Puppy School training, and getting to know our clients and their fantastic furry friends. You can usually catch her playing with our great range of dog toys in the Sandy Bay consulting rooms, or petting puppies and feeding patients all the treats at the Taroona Hospital!
In her spare time, Amy enjoys reading fantasy novels, crocheting and gardening, hanging out with her own pack of animals and exploring Tasmania's wonderful wilderness. If you see her floating around, feel free to come say hi! She may even scratch behind your ears!