Veterinary Nurses
Hayley Klop Veterinary Nurse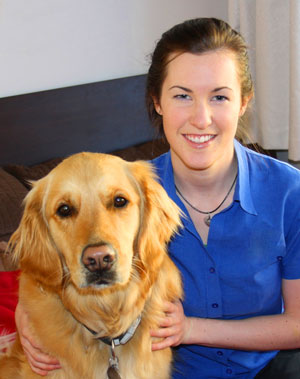 Hayley's patients have not always had four legs. She originally studied human nursing at the University of Tasmania before discovering that animal health care was her true passion. Hayley started her career at Tasmanian Animal Hospitals in 2009, where she joined the team as a Nursing Assistant and the proud mum of a precious Golden Retriever puppy called Indie. After gaining valuable experience in small animal practice she became a Veterinary Nurse in 2010. With her keen interest in emergency medicine it was a natural progression to join the fledgling After Hours Veterinary Emergency Centre in late 2011. It was also around this time that Hayley's heart and couch were stolen by Calli the Great Dane – 'the big dog with the little brain'!
During the last three years at AHVEC Hayley has received her certificate in Critical Care Nursing from Veteducation and has cared for pets with complex surgical and medical needs. Although the buzz of the emergency room can be addictive, Hayley began to miss nursing her 'regular' patients and creating lasting relationships with pet parents. After a recent holiday she is very excited to join Dr. Raj Wicks at The Dog Clinic – Hobart. Hayley enjoys making her patients as calm and comfortable as possible while they are at the clinic and is delighted to be working exclusively with canine companions. Hayley has a particular interest in radiography as well as dog behaviour/obedience, and hopes to further her study in these areas.
Outside of work Hayley's guilty pleasures include reading fantasy novels, making improvements to her little hobby farm, eating good Thai food and spending way too much money on collars and coats for her fur kids!