Veterinary Nurses
Hayley Klop Head Veterinary Nurse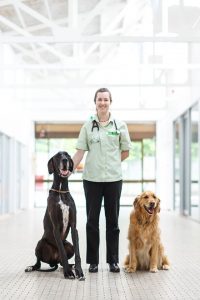 Hayley's patients have not always had four legs. She originally studied human nursing at the University of Tasmania before discovering that animal health care was her true passion. Hayley started her career at Tasmanian Animal Hospitals in 2009, where she joined the team as a Nursing Assistant and the proud mum of a precious Golden Retriever puppy called Indie. After gaining valuable experience in small animal practice she became a Veterinary Nurse in 2010. With her keen interest in emergency medicine it was a natural progression to join the fledgling After Hours Veterinary Emergency Centre (AHVEC) in late 2011. It was also around this time that Hayley's heart and couch were stolen by Calli the Great Dane – 'the big dog with the little brain'!
During her three years at AHVEC Hayley was able to care for pets with complex surgical and medical needs. Although the buzz of the emergency room can be addictive, Hayley began to miss nursing her 'regular' patients and being able to create lasting relationships with pet parents. So, in 2014 she joined Dr. Raj Wicks to open The Dog Clinic – Veterinary Care Just For Dogs. Hayley enjoys making her patients as calm and comfortable as possible while they are at the clinic and is delighted to work exclusively with canine companions. Outside of work Hayley's guilty pleasures include reading fantasy novels, making improvements to her little hobby farm, eating good Thai food and spending way too much money on collars and coats for her fur kids!
Hayley is currently on Maternity Leave with her first 'non-furry' child.
Sophie Jarrold Veterinary Nurse
Nurse Sophie joined the Dog Clinic in early 2017 after moving from the mainland with her partner and adopted Springer Spaniel cross, Molly.
Sophie grew up on a farm in country Victoria and spent much of her childhood riding horses and trying to get out of farm work. Her love of animals was no match for her previous job working for top Sydney barristers. Eventually she swapped working with wigs for wags and is currently completing her Certificate IV in Veterinary Nursing.
Sophie has a keen interest in surgical and hospital nursing, especially anaesthetics, and is enjoying developing her skills and knowledge with the team in these areas. Sophie runs The Dog Clinic's 'Weight Woofers' program (focusing on pet nutrition and weight loss) and she oversees the monthly worming program. She enjoys developing and nurturing long-lasting relationships with all of her patients and their owners.
When Sophie's not devising pawsome dog-related puns she can be found exploring the wonders of the Tasmanian wilderness, playing tennis, taking her dog on kayaking adventures and baking. She is also an enthusiastic swimmer, but leaves the doggy paddle for her four legged friends.
Bel Sward Veterinary Nurse / Receptionist
Hello Everyone! I'm Bel, I have recently started working at The Dog Clinic, but for the past five years I worked at AHVEC as an Emergency Nurse Receptionist and Veterinary Nurse. I have been in the veterinary industry for eleven years now! I have completed my Certificate II in Animal Studies and I would like to do more study, but for the moment I have two small girls that keep me very busy when I'm at home!
Since starting at The Dog Clinic I am already learning how to run Puppy School and am loving it, I hope to see your new puppies in a class!
While I love all breeds of dog, I do admit that my favourite breed is a Pug.
I can not wait to meet everyone and your beautiful dogs.